Best Jewellery Repairs in London
Are you looking for jewellery repairs services? If yes, then you have come to the right place. Opulence Jewellery Services is the most reliable and experienced company where we will satisfy your needs and requirements within a very short time. Our expert jewellery repairs London can fix complex problems without any hurdle and unnecessary delay. We know how to jewellery rebuild different sort problems from different types of jewellery. Thus we recommend try our jewellery repairs London services and we will let you know the quality of work that we provide at competitive prices.
Furthermore, we try our best to Jewellery repairs London the damage on your jewellery without harming its real colour, shape, and design. In this way you don't need to renew or redesign your jewellery item that was your favorite for the last many years. We not only provide perfect solution of the damage but also ensure the safety of its real beauty and sensitivity. The shine of the jewellery is the most important thing that we give it back through jewellery polishing and jewellery cleaning London.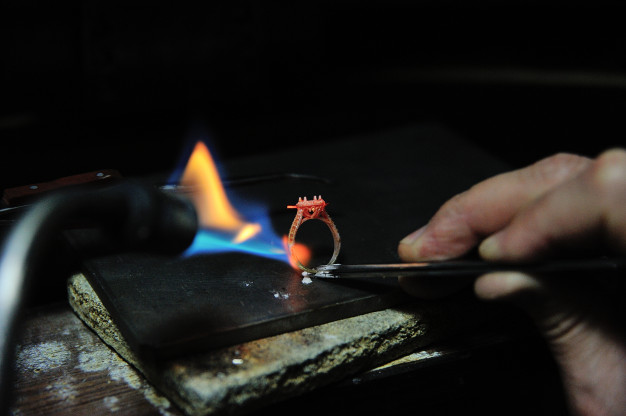 Why opulence jewellery is always the best choice
When it comes to the jewellery repairs, jewellery cleaning, or jewellery polishing, undoubtedly Opulence Jewellery is the best place for you. This is because here you find same solution from different methods whatever seems suitable for your jewellery item. We offer jewellery cleaning and polishing both by machine and by hand. Furthermore, Opulence offers you right solution at the lowest price which you can easily afford and that's what we care about. Our first priority is your utmost satisfaction about our services and we give our best to achieve this aim.
Fifteen years of excellence in jewellery repair:
Being professionals, we have served hundreds and thousands of our clients since the last 15 years and 99.99% clients at satisfied by our excellent job. No doubt they appreciate our services whether they get jewellery repairs or jewellery polishing & cleaning. Having long experience in this field we have worked on all kinds of jewellery and all sorts of jewellery repairs london items. Thus we are confident to fix your jewellery without any hazel or delay.
Using right jewellery repairs London technology we keep our services up-to-date that leads our job to a next level. It enables us to repair and clean both traditional and modern types of jewellery easily. Therefore we feel proud to say that you will get the best jewellery repairs in London from Opulence Jewellery.
What we offer at Opulence Jewellery Services?
Here we offer a complete solution for your jewellery whether it is damaged, scratched, or its colour is getting dull. Not only that but many more solutions are here for you that are as follows:
Best jewellery repair:
If there is any damage or scratches on your jewellery item, let us know and get it fixed within no time. We will repair your jewellery with our best jewellery repairs london services without wasting your precious time. Our experienced and skilled jewelers can fix any kind of problem or damage no matter you wants to repair your earring, necklace, chain, or bracelet. You will get everything fixed with our best efforts by right hands. So if your gemstone is lost, pin is damaged, or chain lock is damaged, we are here for you. Undoubtedly, we can fix these issues without leaving any symptom of jewellery repairs behind.
Get the real shine back with our jewellery polishing services
If you want to polish your gold jewellery or silver jewellery, you are exactly where you should be because Opulence Jewellery Services is offering the finest jewellery polishing services including gold jewellery polish. We are providing both machine polishing and hand polishing whichever you want and we promise to provide quality polishing on both. Turning your old and scratched jewellery repairs london items into brand-new and more graceful is our sole objective. We can make your simple and inexpensive jewellery items very special and beautiful through gold jewellery polishing. So let it be done by today with our amazing jewellery polishing services.
We clean your jewellery to make it new
It is very important to clean your jewellery whether it has become dull, less shiny, or dirty. Opulence Jewellery Services is the right place for you where you find high quality jewellery cleaning services. we will help you to get the real beauty of your Jewellery Repairs London back and make it perfect to wear in the upcoming events. We have the latest machines that can clean your jewellery and give it a brand new look. For this, we charge very reasonable and competitive charges from our valued clients to make them feel valuable for us.
Jewellery is something that we care about the most and therefore we keep it secure for so long. In this way, jewellery often gets old and useless for us because of our changing ages and body size. Mostly the rings need to resize when they become short in size. So if you are also worried about your jewellery that have become short in size or old fashion then Opulence Jewellery Services can sort out this problem. We are providing the best jewellery restoration London and resize services to turn useless to useful. No doubt, we can personalize your jewellery and make it exactly as you desire for.
Our highly professional and skilled jewelers know very well, how to renew, repair, and resize a jewellery item. So you can feel free to contact us anytime in case you have out-dated or short size jewellery at home. Being one of the best jewelers in the UK, we ensure 100% satisfaction of our valued clients through our excellent services that we are offering at very suitable prices.