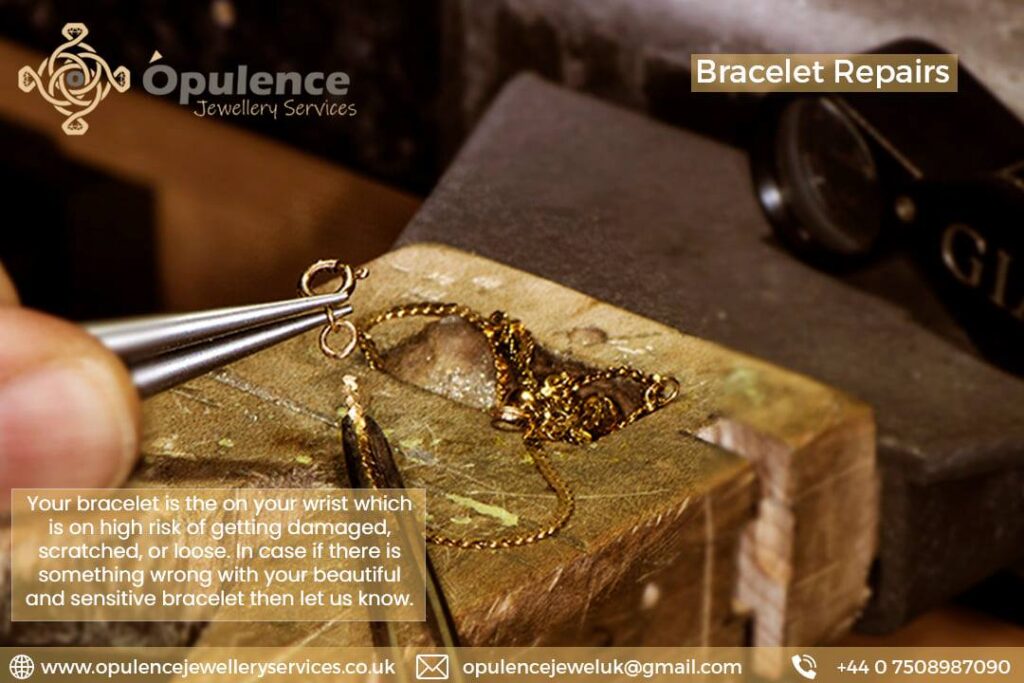 Jewellery is the evergreen fashion trend that is not only adopted by eastern or western cultures but the whole world. Buying elegant and decent jewellery is one thing and keeping it in its shiny look for long is another. Both the topics go side by side. For the best quality jewellery item and Jewellery Services in London, Opulence Jewellery Services is always been the first choice of many.
What makes us the Popular Brand in London?

Our unique and elegant designs of jewellery and high-quality jewellery services make us achieve our goals. Today we are among the most leading jewellery service providers in London. And we are proud of our reputation. With so many years of working in the UK market, we can cover almost all types of jewellery services. Our jewellery services include Jewellery cleaning, Ring Resize, Rhodium plating, Gold Plating, Lock and Clasp Repair, Soldering, Prong & Claw re-tipping, Laser Engraving, Laser Soldering, Diamond Milling/Cutting, Broken Necklace, Polishing, Resetting Stone, Stringing, Replacing Lost Stones, Replace Shank, Re modelling of old jewellery, Custom design of new jewellery, etc. With so many jewellery services in one place and all are served at low cost.
Jewellery Service from your home

Our unique and interesting service that our customers love the most is that provide them with ease and comfort. We deal with our customers through the web, allowing them to contact us anytime from anywhere. If you have a shortage of time and you are delaying your jewellery services just because of your busy schedule. Then do not get worried, we will send our expert jewellery to your place when you come in contact with us and request for home service. Our jewellery will deep scan your jewellery and give you an instant quotation. With us, your Jewellery Services in London has become very easy and fast.
Our devoted and Experienced staff

It is the hard work of staff that takes the company to success. We always put our main focus on the capabilities of our staff members during the appraisal process. All our staff members are experienced and skilled. As the jewellery is a very valuable item and the one dealing with it must have its complete knowledge. We make sure that our staff members must have all important knowledge about jewellery. Regular sessions of training will polish these skills and knowledge later. Our staff is always in ready to work mode, once you request our jewellery services they all get to their positions and start their work to provide you with the best quality Jewellery Services. Whatever the fault or issue your jewellery has, we are capable enough to deal with it smartly. We always ensure integrity and honesty to build long-lasting customer relations. If you're based in London zones 1 or 2 we will collect your Jewellery Repairs it and then deliver it back to you.
Fill out our form to tell us about what do you need, either repairing or altering. We will personally come to your office, home or hotel. We'll confirm your appointment via email. As a personal Jewellery Services, we can deliver to you around the clock. From your office to your home, we schedule private appointments to meet your demands and provide the most accommodating service. We will work until you are 100% happy with your item, it's as simple as that. We offer a lifetime warranty on all jewellery repaired providing we see the item within one year. We will check the item and clean it as part of the service, free of charge.