Best Laser Engraving London
Searching for the best laser engraving London? Don't worry we are here with the right engraving solutions for you at Opulence Jewellery Services. Having long experience in Jewellery engraving, Jewellery Casting, and Jewellery Restoration we can meet your expectations and demands easily. Laser engraving gives your jewellery item a personalised touch because you can get anything engraved on your jewellery item. It can be some text, logo, design, or any sort of style which you want to see on your jewellery item.
Laser engraving is an excellent technology that can engrave any kind of jewellery whether it's Gold Jewellery Cleaning or of another metal. The laser technology we use in our laser engraving belongs to the latest technologies. Our laser technology produces flawless and smooth engraving on your jewellery items keeping in mind the safety of your jewellery. Highly qualified and experienced people are working on our site to engrave your jewellery as you desire for.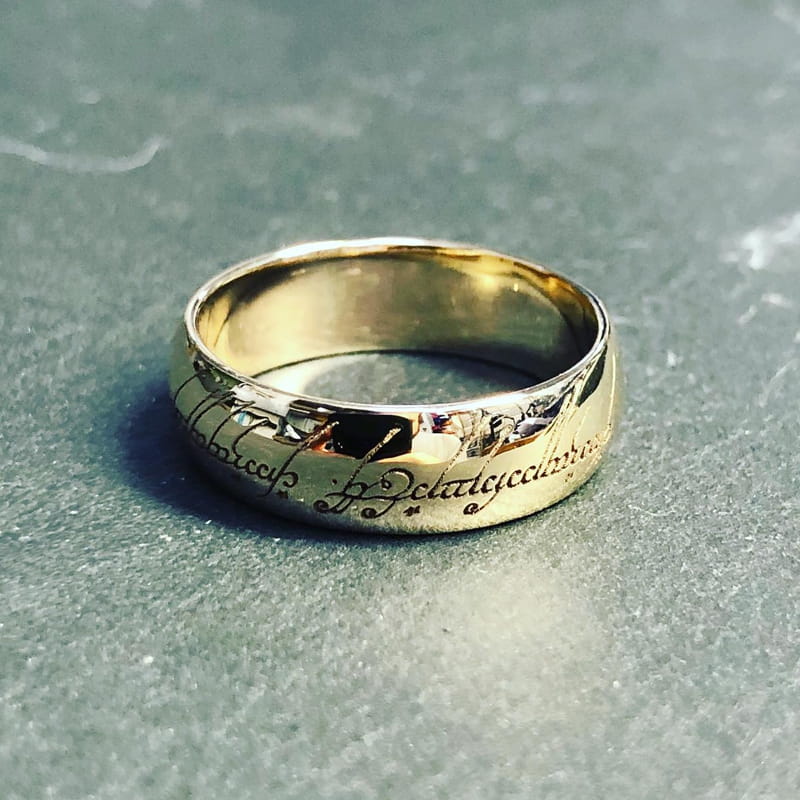 Why choose Opulence Jewellery Services for Laser Engraving London?
When it comes to laser engraving the Opulence is on top of the list that provides supreme quality laser engraving services at competitive prices. We always try to satisfy our clients no matter how much client expects from us. Therefore, we ensure brilliant work by our excellent staff in our Jewellery Services. Furthermore, we complete your work within the shortest time without wasting your precious time and engrave your jewellery as soon as possible. Besides that, our charges are always competitive, reasonable, and easily affordable for everyone who wants to engrave its jewellery.
We are in London for the last Twenty years offering excellent Jewellery Services to our value clients and fulfilling their expectations and demands without wasting their precious time. Thus we have served thousands of clients that have appreciated our work.
What else we offer in Jewellery Services London?
Get the finest Jewellery Polishing
If you are worried about your old and dull jewellery that need to be polished then you are at the right place. Our Jewellery Polishing can renew your old and dull jewellery items and give them a whole new shine. Now you don't need to buy new jewellery on upcoming event because we can make the old one enough shiny and graceful that you can happily wear again. Opulence Jewellery Services offers hand polishing and machine polishing whichever suits your requirements. While sending your Jewellery Polishing item you can mention the method of polishing you want.
No one Jewellery Restoration Solutions
Old jewellery especially the family jewellery which comes from previous generations in heritage needs restoration. This is because the old jewellery gets damaged, out of fashion, scratched, or loose. So Jewellery Restoration is the right solution to give it a new life and turn it into brand new jewellery. We restore everything in your jewellery whether you have old earrings, rings, bracelets, necklace, chain, or anything else. Our experienced jewellery manufacturers are working day and night to satisfy our valued clients by providing the finest Jewellery Restoration. Moreover, we also provide gemstone replacement in our Jewellery Restoration services in which you can add the missing gemstones from your precious jewellery. We have a wider collection of amazing gemstones for you to choose from.
Best Jewellery Repair and Resizing
In case, your precious jewellery item has damaged or broken which you want to get repaired without harming the actual look and design of your jewellery then Opulence Jewellery Services is here for you. Being professionals, we have a brilliant team of experts that will repair your jewellery without leaving a single spot of repair on your jewellery item. We work professionally and therefore the quality of our work is worth appreciating. We can repair anything you need on your jewellery items from a chain to your earring.
If you have a ring which has become short in size then you can contact us anytime. We also offer ring resize services to our valued clients across the UK.