Expert Jewellery Restoration in London
Jewellery is made up of precious metals so when it is manufactured it goes through a lot of processes and chemicals which make its appearance shine and style elegant. But make it weak from inner bondings. Regular usage can break your jewellery and damage it from certain points. Here people need to avail Jewellery Restoration Services. Opulence jewellery service provides you with expert Jewellery Restoration London.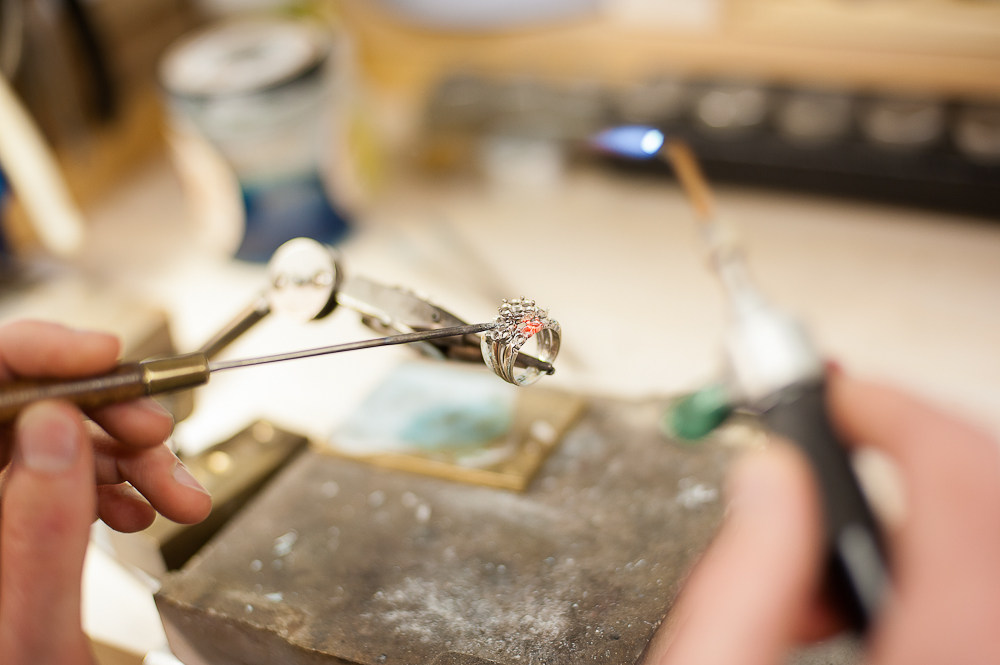 Gemstone Replacement Service
Have you ever noticed, through which situation your ring goes through when you are washing, or cooking or cleaning different things? All these actions will damage the prongs of the ring. When the prongs got damage your gemstone or diamond may fell. Our experts will thoroughly examine your jewellery item for any kind of damage or restoration. We manage to engrave the most similar gemstone in case if it falls. And if any of the gemstone replacement do not match we with your permission, replace all the gemstones with the new gemstones. By this, you can enjoy a new jewellery item in the old body. As people are emotionally attached to their jewellery item and they do not want to replace the gemstone with a different and new gemstone replacement, then we without wasting their time return their jewellery item. Instead of making it repair from any other shop. This is how we maintain the trust of customers. As we only provide the products and services that are available to us. Gemstone replacement can is done within no time. And our experts use advanced tools and chemicals to do the work with zero error. This will keep your jewellery safe from any other damage.
How Jewellery maintenance Service can help in Jewellery Restoration Service?
Buying jewellery is one thing and to keep it shiny and new is another. Both the things go side by side and have equal importance. People invest in buying expensive Expert Jewellery Restoration in London but do not take its care by availing jewellery maintenance Service London. It will damage their jewellery and cost them a lot. Our experts suggest to avail jewellery maintenance service after every six months. By availing of these services, your jewellery will remain shiny and valuable. Also if there is any fault or damage in jewellery. It can be check by an expert and with your permission jewellery can be repaired.
Why are Jewellery Restoration Services Important?
got damage and break due to any reason. Then instead of investing again in buying another jewellery item. People can avail Expert Jewellery Restoration in London. And they can get their same damaged jewellery item repair by our experts. Our experts have professional knowledge and tools. They repair your jewellery within no time and their repair will prevent your jewellery from any further damage.
Why Repairing Jewellery at home is a failure?
Jewellery Restoration requires expert knowledge and tools. Further proper range of chemicals is also needed. At home people by using home remedies people try to repair their jewellery resulting in further damage and loss of shine. Making your jewellery a dull piece of metal to wear. We in our Opulence Jewellery services have a wide range of advanced tools. And our jewellery experts are experienced and trained. They are familiar with the properties of each jewellery metal and the usage of each tool. Further, they are trained from time to time. Our efficient repair department is staffed with expert Goldsmiths who will evaluate the work that needs to be completed and explain the entire process. No jewellery repairs London job is too big or too small. Our skilled jewellers are eager to take on any challenge that your jewellery needs may present. Making us a better place to serve you for all jewellery related services. As London wholesale jewellery repairers, our jewellery repairs shop embrace many types of jewellery repairs London & jewellery alteration, Jewellery Restoration London and custom jewellery design work. Speedy ring sizing service, ring re-sizing service and diamond remounting in our London jewellery workshop and London's jewellery repair center.
With all restoration services, we provide our customers with ring resizing service. The ring that is too small or too large for your figure can be added with more metal or extra metal can also be removed from it. If the ring is small to your finger then its band is pass through chemical processes to make it soft and then more metal is added to it by your permission. As adding more metal will cost you some money. And if in case the ring is big, extra metal from the ring band is cut and is shaped again according to your given size. The extra metal removed is either returned to you. Or can be with us by paying you its cost. Customer satisfaction is our priority so we do each step with your permission and knowledge. As to build customer trust require customer engagement throughout the process.
Jewellery Restoration Services in London
We provide our customers with all type of restoration services. In case your bracelet got damage or your gemstones fall from your ring or necklace. We with our team of experts is here to help you in all cases. We repair your jewellery Restoration London case of any damage. Other than these we also polish your jewellery items. Keeping your jewellery shiny and bright. We have provided our services to thousands of customer. And once they take our jewellery services in London they always come to us in future. Our humble behaviour and expert knowledge in our field make us the most wanted jewellery service shop throughout the UK market. Also, we provide all our products and services at reasonable rates. As we know the Expert jewellery restoration in London cost very high and most people do not afford to wear it. And hesitate to take maintenance service. But we by taking care of our customers start our services at only 15 pounds. Which is the lowest rate in the UK jewellery market.